OUR TARGET IS $ 1 BILLION CHINESE INVESTMENTS IN GREECE UNTIL THE END OF 2021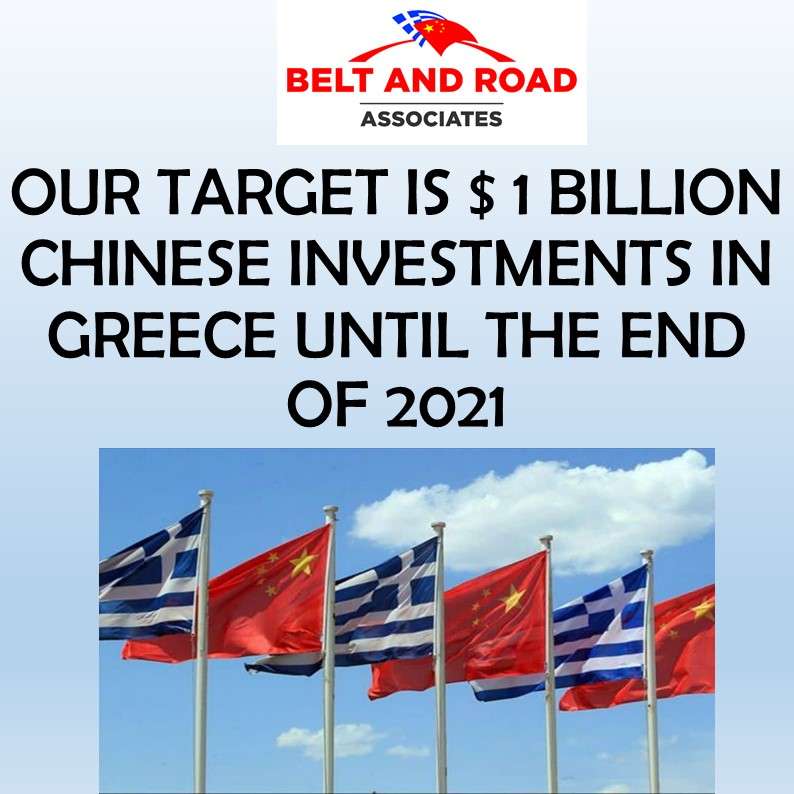 At BELT AND ROAD ASSOCIATES we work systematically to promote Greece as an investment destination for Chinese investment, always within the framework of BELT AND ROAD INITIATIVE. We are now setting a clear goal. Attracting investments from China to Greece, amounting to $ 1 BILLION, up to the end of 2021.
To achieve the goal we will work with everybody in Greece and China,
We will support every project in every possible way,

We will mobilize everybody that can contribute to achieving the goal,

We will notify Chinese investors of every project available in Greece,

We will continue to support the project "GREECE AS THE AIR HUB OF CHINA FOR SOUTHEASTERN EUROPE" https://www.beltandroadassociates.com/greeceairhub/,

We will strengthen in every way the exchange of tourists between China and Greece.
We need your support to achieve this optimistic goal. If in any way you participate in the development of the bilateral relations of Greece and China, do not hesitate to contact us. Achieving the goal has a great contribution to the well-being of the people of both countries.
BELT AND ROAD ASSOCIATES, the bridge between Greece and China.