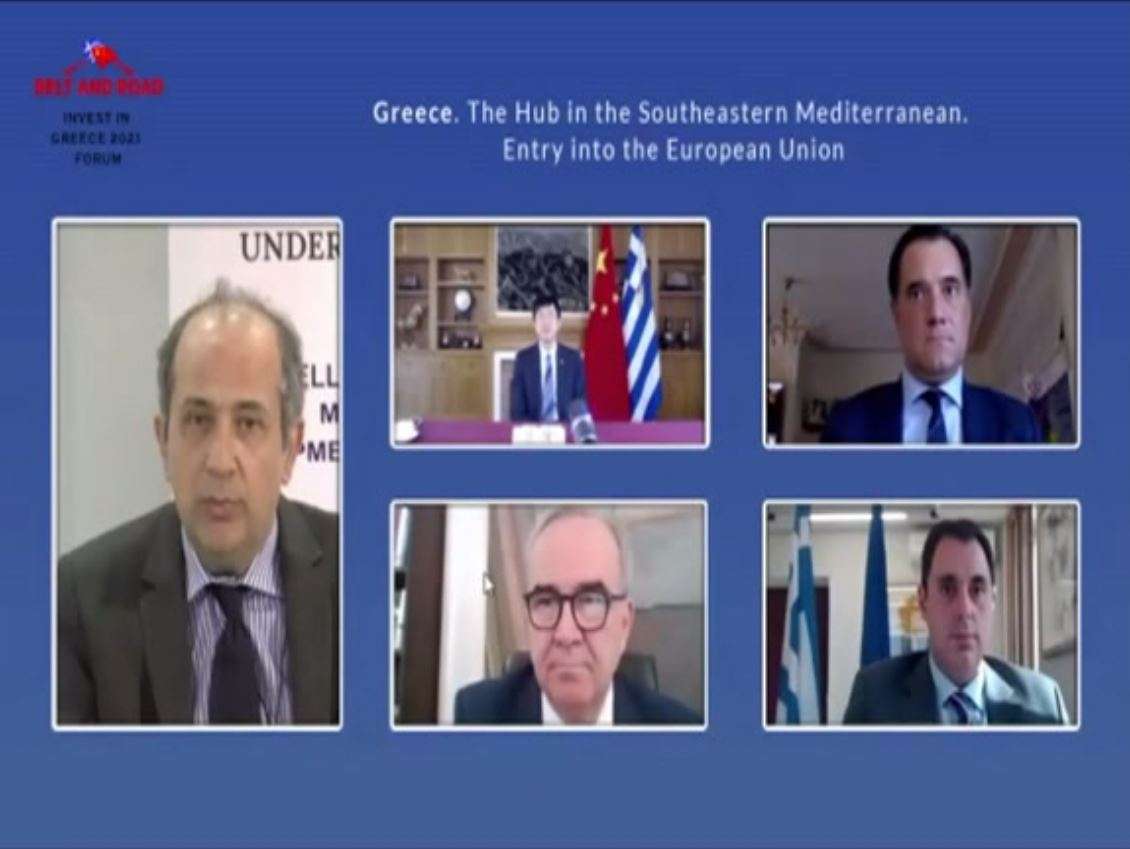 YOUTUBE FULL FORUM VIDEO
BELT AND ROAD INVEST IN GREECE 2021 FORUM PART A
BELT AND ROAD INVEST IN GREECE 2021 FORUM PART B
ALIBABA CLOUD FULL FORUM VIDEO
BELT AND ROAD INVEST IN GREECE 2021 FORUM PART A
BELT AND ROAD INVEST IN GREECE 2021 FORUM PART B
ALIBABA CLOUD SPEAKERS
Minister of Development and Investments, Mr. Adonis Georgiadis
Alternate Minister of Development and Investments, Mr. Nikos Papathanasis
Embassy of People's Republic of China to Greece, Chargé d'Affaires Minister-Counselor Mr. Wang Qiang
Secretary General for International Economic Affairs Ministry of Foreign Affairs & Chairman of Enterprise Greece, Mr. Smyrlis Yannis
China Chamber of Commerce to the EU (CCCEU), Chairman Mr. Xu Haifeng
Deputy Secretary-general of Zhengzhou Municipal People's Government Mr Wang Baolai,
INVEST IN GREECE, ENTERPRISE GREECE, official agency of the Greek State, to promote investment in Greece. Mr. Georgios Filiopoulos, CEO of ENTERPRISE GREECE.
GREEK GOLDEN VISA, permanent residence permit in Schengen Area. Dr. Anastassiadis Ioannis, Founder and CEO of ANASTASSIADIS GROUP
Bank of China (Luxembourg) S.A. Athens Branch,General Manager Mrs. Li Shuping
ZTE CORPORATION in Greece, a success story, CEO of ZTE Southeast Europe & Cyprus-Israel, Mr. Jianbo Wang
Piraeus Port, the Head of the Dragon COSCO, Mr. Tassos Vamvakidis, Commercial Manager of PCT S.A. (Piraeus Container Terminal s.m S.A.)
Huawei Technologies Greece, Managing Director Mr. Lazaris Nikolaos
Logistics Hub for the Southeastern Mediterranean region, Chairman of National Logistics Council at Government of Greece, Mr. Ziliaskopoulos Thanasis
«Re-connecting Greece with China in the post-pandemic era» Mrs. Ioanna Papadopoulou, Director, Communications & Marketing, Athens International Airport S.A.
Greece as the Energy Hub of SouthEast Mediterranean, Mr. Konstantine Drougos, CEO Oasis Carbon Management Group
10 things you need to know to Invest in Greece, Mr. Ikonomopoulos Haris, Lawyer specializing in business law
Greece as the Technology Hub of SouthEast Mediterranean. Startup investment opportunities. CHINA INVESTS IN SOUTH-EAST MEDITERRANEAN INNOVATION PROJECT, Mr. George Floras, BELT AND ROAD ASSOCIATES
Establishment of Intra-Group Service Centers. Global Business Services, Shared Service Centers, International business process outsourcing, BPOS & Contact Centers. Mr. Veroutis Agissilaos, Management Consultant
CITY OF ATHENS Mr Nikolaos Makropoulos, Deputy Mayor of the Municipality of Athens, responsible for Development, Entrepreneurship and Investment