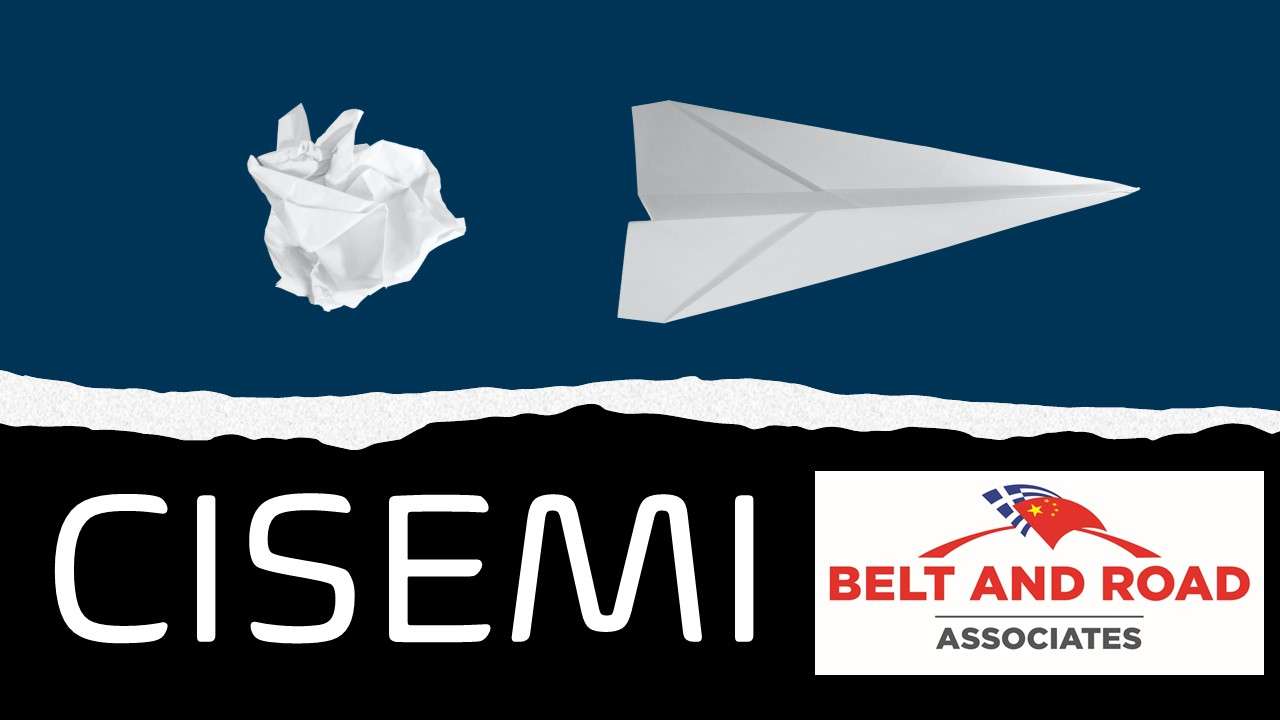 CHINA INVESTS IN SOUTHEAST MEDITERRANEAN INNOVATION
We at BELT AND ROAD ASSOCIATES know that it is not simple for a Chinese investor to identify in Greece an investment opportunity in time. Its not easy to make the necessary contacts so to be able to finally decide whether to invest or not. Especially in the field of Innovation where the speeds for a decision must be very fast.
Our new Service is addressed exclusively to Chinese investors. It is called CISEMI. CHINA INVESTS IN SOUTHEAST MEDITERRANEAN INNOVATION
CISEMI provides Chinese investors with timely information on investment opportunities in the field of Innovation Technology in Greece. CISEMI will be the vehicle by which China's investment funds will travel safely in the Oceans of Innovation in the Southeastern Mediterranean.
CISEMI provides its Subscribers with all available details for each project/company, including key persons and contact details. Given that the competition of investors is huge, knowing firsthand about a potential investment opportunity offers an advantage and gives great returns.
The data will enable Chinese investors to quickly assess a case and decide whether they are interested or not. If they are interested, they can communicate directly the company and start discussions.
The information of CISEMI Subscribers concerns Innovation companies that are either known to be looking for investors or have not made public their interest in investment funds. CISEMI Subscribers can judge that they are interested in a company, regardless of whether it publicly expresses its interest in investors or for sale.
CISEMI organizes online forums exclusively for CISEMI subscribers, to meet Innovative Entrepreneurs and make quick decisions about a future investment.
CISEMI brings closer the Greek Venture Capital with the Chinese capital, for more efficient financing of Innovative companies.
CISEMI supports Chinese investors, if necessary, in their communication with the target companies, in negotiations, search for relevant information, market analysis, due diligence, etc. so that the Chinese investor can safely decide (or not) on the investment.
CISEMI will start from Greece. As soon as the model of cooperation with Chinese investors is tested, through the appropriate partnerships, we will offer similar services from other countries of the Southeastern Mediterranean.
OUR TARGET
BELT AND ROAD ASSOCIATES LIMITED is dedicated on BELT AND ROAD INITIATIVE. Through CISEMI we aim to:
attract more Chinese to invest safely in Greece and then use Greece as a hub for their operations in the Southeastern Mediterranean.
offer Greek innovation companies' access to Chinese funds, increasing their options and opportunities for rapid growth.
serve Belt and Road Initiative
THE PRIVILEGES OF THE CISEMI SUBSCRIBER
Immediate update of CISEMI Subscribers for Greek Innovation companies that have the prospect of international development of their product or service.
The update includes as much information as possible about the company and its product / service and certainly the contact details of the company and the people who run it.
The update is done in English, via email and / or WeChat. The update is sent simultaneously to all CISEMI subscribers.
Free participation in online forums in which only CISEMI subscribers participate. Innovative companies will be presented in the online forums (presentation by the entrepreneurs themselves) and there will be a lively discussion between the investors – CISEMI subscribers and the entrepreneurs.
Newsletter to CISEMI subscribers with interesting information about the developments in the field of Innovation in Greece, changes in the Legislation, incentives for investors etc
ADDITIONAL SERVICES
BELT AND ROAD ASSOCIATES, as the most dedicated partner of Chinese investors in Greece, can provide additional Services to CISEMI subscribers, if they wish. Although all contact information for the target companies will be available to CISEMI Subscribers, additional support may be required, either at the initial contact stage, at advanced discussion stages or, finally, in the process of finalizing the agreement. The additional Services and their cost depend on each case.
SUBSCRIBE NOW
CISEMI is a subscription service. Subscriptions are for 3, 6 and 12 months. The subscription is € 400 for 3 months subscription, € 700 for 6 months subscription and € 1200 for 12 months subscription.
To get to know our service we will offer you the first month for free. Start your 1-month free trial now to get exclusive premium content from CISEMI. CHINA INVESTS IN SOUTH-EAST MEDITERRANEAN INNOVATION! You have no obligation to continue with a paid subscription after the end of the free month, if you do not wish to do so.
Only Chinese companies and Chinese investors are accepted as CISEMI Subscribers.
The application for Subscription to CISEMI is examined by the Members Committee and if it is accepted, a relevant letter of acceptance will be sent to you.
Download the subscription form from the following link, fill it in and send it to info@beltandroadassociates.com or through WeChat to George Floras WeChat ID : gfloras.
DISCLAIMER
The data for each company is collected from various sources such as the company itself, public databases, the Market, etc. BELT AND ROAD ASSOCIATES LIMITED is not responsible for anything that arises as a result of providing this data to CISEMI Subscribers. The disclosure of information to CISEMI Subscribers by BELT AND ROAD ASSOCIATES LIMITED is not an investment proposal.