Cangzhou is located in the southeast of Hebei Province. It faces the Bohai Sea in the east, abuts against Beijing and Tianjin in the north, adjoins Xiong'an New Area in the west, and borders Shandong Province in the south. Cangzhou covers a land area of 14,000 square kilometers and maritime space of 955.6 square kilometers with a coastline of nearly 100 kilometers. With a total population is 7.3 million, the urban population amounts to 800,000. As one of the open coastal cities designated by the State Council, Cangzhou is an important node in Beijing-Tianjin-Hebei world-class city cluster, the Belt and Road Initiative and Beijing-Shanghai traffic artery. Moreover, Cangzhou has been appraised as National Garden City, National Water-saving City, National Public Cultural Service System Demonstration Area, National Quality Charming City, National Double Support Model City, and Civilized City of Hebei Province.
Cangzhou is 200km from Beijing, 100km from Tianjin, and 220km from Shijiazhuang and Ji'nan. What's more, Cangzhou covers Renqiu Baiyangdian Area which is under jurisdiction of Xiong'an New Area. Cangzhou is an important part of Beijing-Tianjin-Hebei Metropolitan Circle and Bohai Economic Rim.        
In 2021, Cangzhou achieved a regional GDP of 416.34 billion yuan which ranked the third in Hebei Province, an increase of 7 percent year-on-year which ranked the second in the province. The investment in fixed assets increased by 5.0%, total fiscal revenue increased by 7.1%, and total retail sales of social consumer goods increased by 6% which ranked the fourth in Hebei Province. The electricity consumption of the whole society amounted to 42.4 billion kWh, ranking the fourth in Hebei Province. Among which, the industrial electricity consumption reached 29.33 billion kWh with an increase of 13%, ranking the third in the province.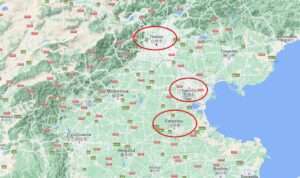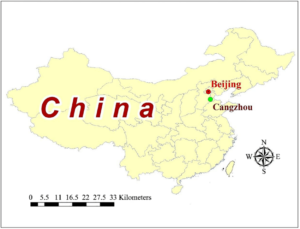 History
First set up in 517 during the 2nd year of Xiping Era of Emperor Xiaoming in Northern Wei Dynasty, Cangzhou is an ancient cultural city with a history of over 1,500 years. The Beijing-Hangzhou Grand Canal flows through the territory of Cangzhou from the north to the south for about 215 kilometers, which ranks the first in terms of length among all prefecture-level cities along the Grand Canal. The long history gave birth to such distinctive cultures as canal culture, martial arts culture, acrobatic culture, poetry culture, traditional Chinese medicine culture, etc. Cangzhou is known as the Hometown of Martial Arts, Hometown of Acrobatics, Hometown of Golden-Silk Jujube, Hometown of Ya Pear, and Hometown of Casting. There were a group of scholars and celebrities, such as Bian Que ( the pioneer of traditional Chinese medicine), Gao Shi (a frontier poet), Ma Zhiyuan (a famous playwright in Yuan Dynasty), Ji Xiaolan (chief compiler of Complete Library in the Four Branches of Literature in Qing Dynasty), Zhang Zhidong (leading advocator of westernization movement in Qing Dynasty), Feng Guozhang ( former acting President of the Republic of China), Ma Benzhai ( a national hero), Xun Huisheng ( a Peking Opera maestro), etc. There are 7 national key cultural relics protection units in Cangzhou such as Cangzhou Iron Lion, Han Dynasty Tomb Group in Xianxian County, etc. Cangzhou Iron Lion was cast in the Later Zhou Dynasty of the Five Dynasties. It weighs 40 tons and is the existing oldest and largest cast iron artwork in the world. Thus, Cangzhou gets the name of Lion City.
Nowadays, Cangzhou has developed into a key modern port city in North China, the new industrial city in Circum-Bohai Sea Area and an important node city in urban agglomerations of Beijing, Tianjin and Hebei Province. With the implementation of such national strategies as the collaborative development of Beijing, Tianjin and Hebei, the outline for the Cooperative Development of the Bohai Rim and Xiong'an New Area planning and construction as well as "One Belt and One Road" Initiative, Cangzhou's strategic position has been increasingly promoted. With the increasingly accelerated development, Cangzhou has been ranked in the first tier throughout the whole province by virtue of its comprehensive economic strength.
Cangzhou has been named by Forbes China among Top 100 Best Commercial Cities in Mainland China for three consecutive years. Moreover, Cangzhou has successfully built the national garden city and been listed among Top 10 National Quality Charming Cities and Top 100 Livelihood Development Cities in China. Cangzhou has become the national key chemical and clean energy security site, the important site of industrial support and commercialization of research findings in urban agglomerations of Beijing, Tianjin and Hebei Province, a crucial modern logistics distribution center in North China and an important coastal open city in Circum-Bohai Sea Area.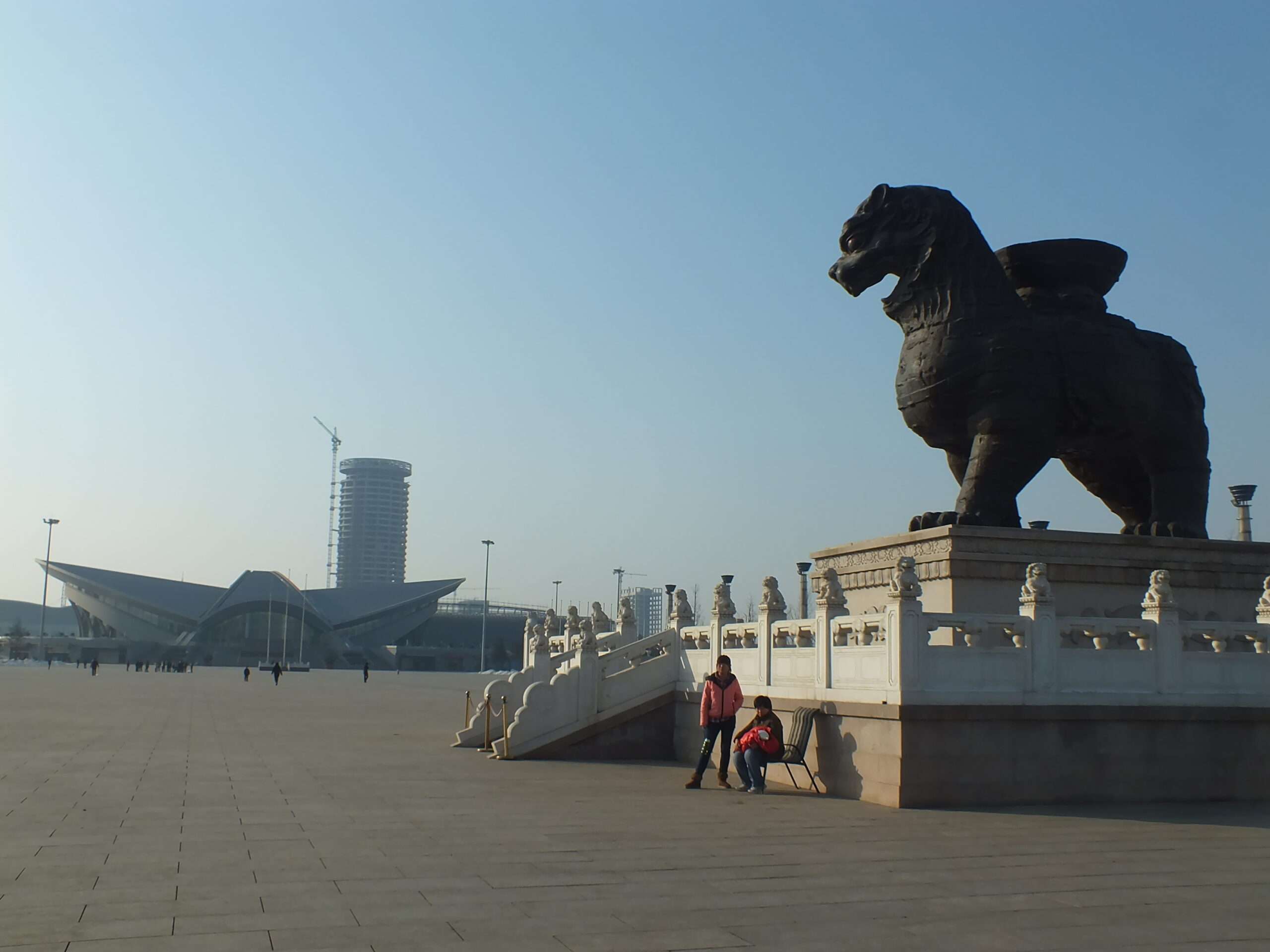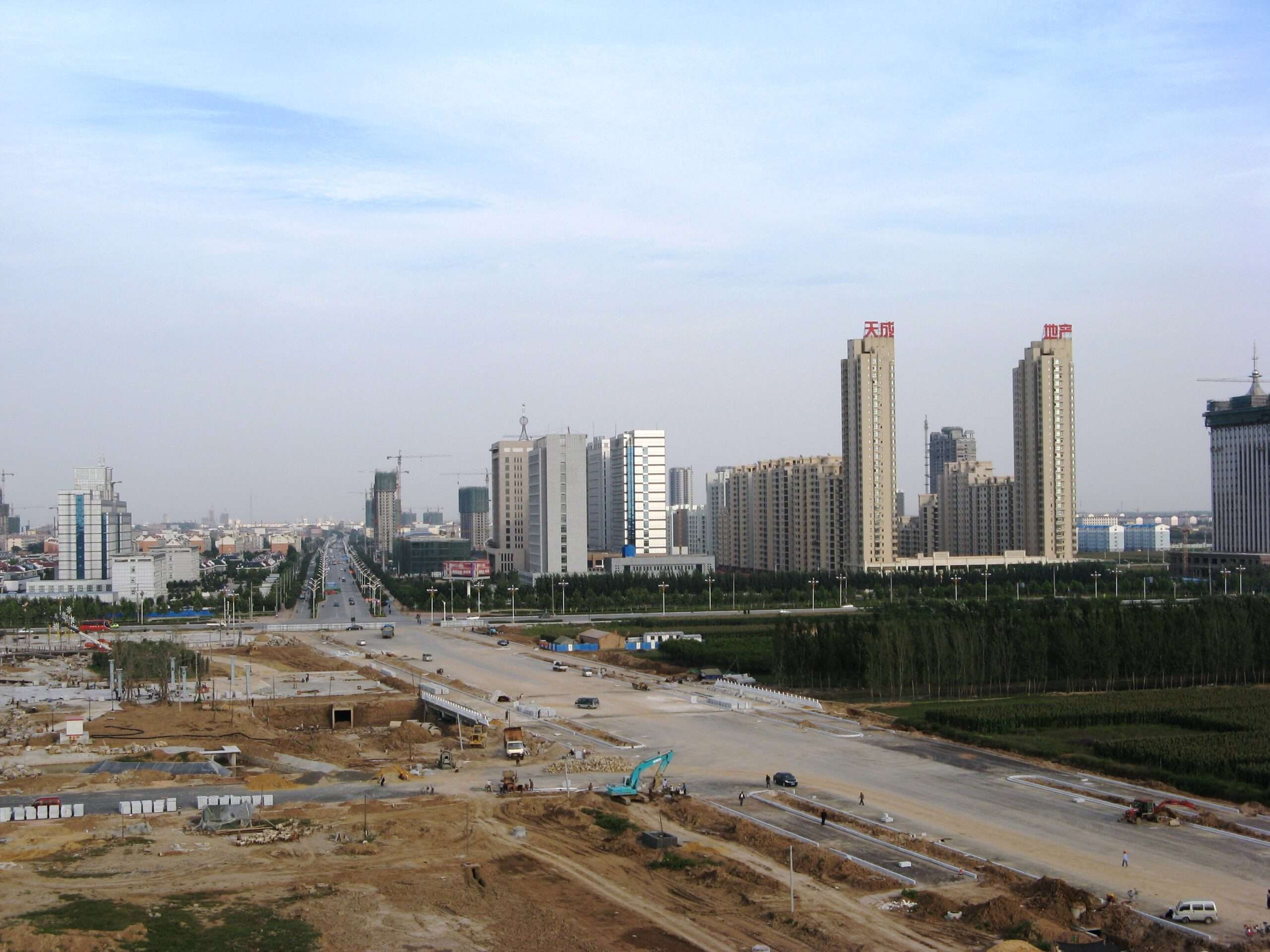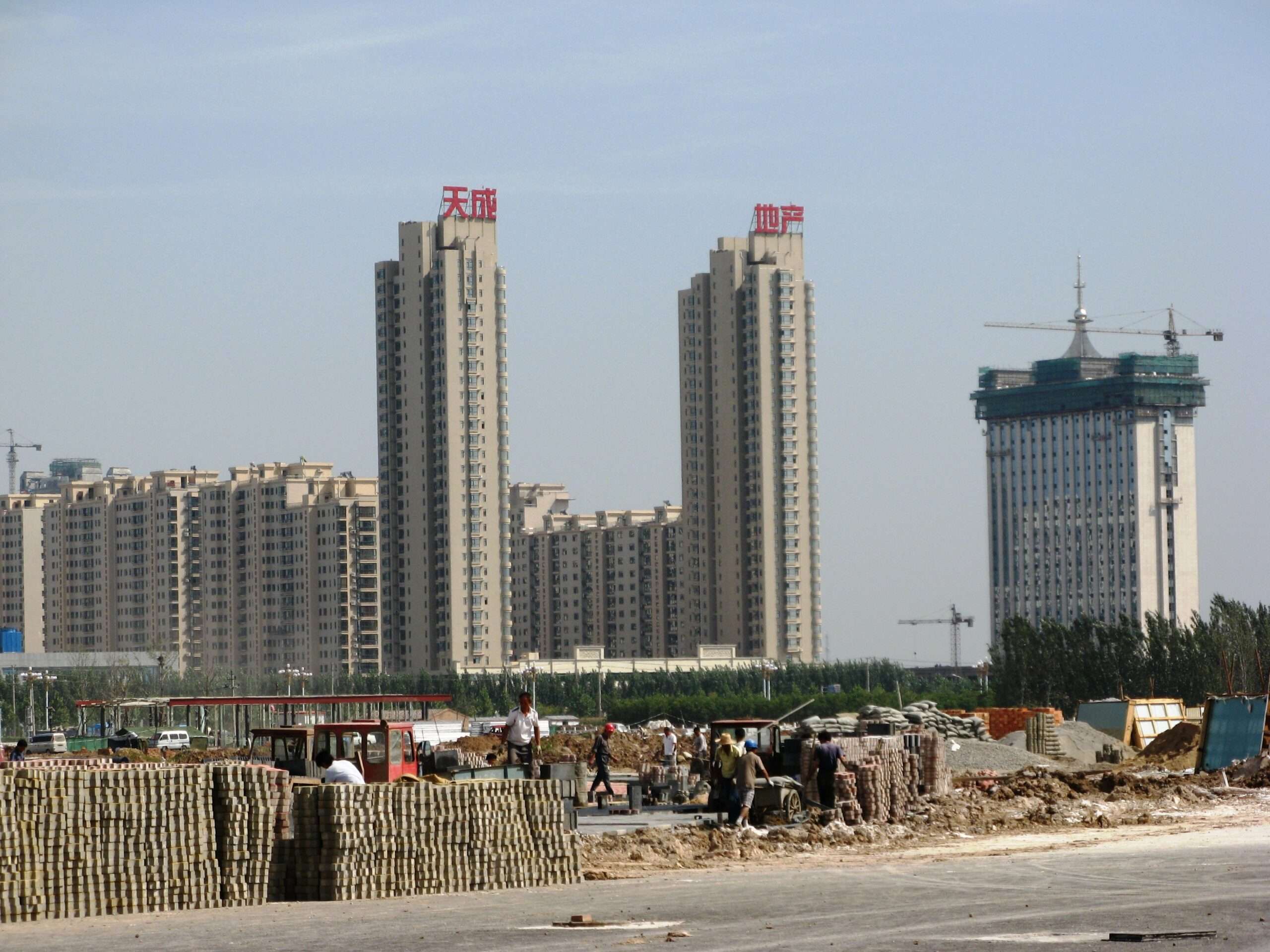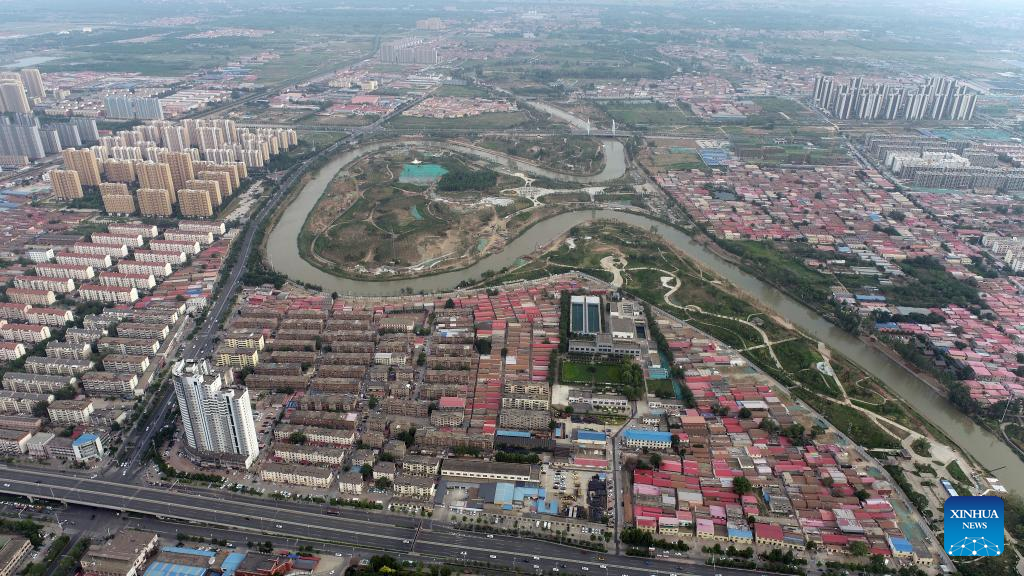 2.Transportation
Cangzhou is one of the important cities in the Beijing-Tianjin-Hebei one-hour traffic circle. There are 7 expressways and 8 main railways crisscrossing Cangzhou, such as Beijing-Shanghai High-speed Railway, Beijing-Kowloon Railway, Beijing-Shanghai Railway, Shuozhou-Huanghua Railway, Handan-Huanghua Port Railway, etc. It takes 51 minutes to Beijing, 22 minutes to Tianjin, 45 minutes to Ji'nan by Beijing-Shanghai high-speed railway. Moreover, Cangzhou is within one-hour drive from Beijing Daxing International Airport. Cangzhou has become one of the cities with most developed integrated transportation network in North China.
There are North China Oilfield and Dagang Oilfield in Cangzhou, with proven geological reserves of 1.5 billion tons of petroleum and 65 billion cubic meters of natural gas. The salt field covers an area of 271 square kilometers, with an annual output of 1.5 million tons of crude salt. Changlu Saltern is one of the four major salt production bases in China. Cangzhou is also rich in land resources. At present, there are about 147,000 hectares of unutilized land and 37,000 hectares of land for construction in eastern coastal region of Cangzhou. Therefore, it is an exceptional ideal place for undertaking the domestic and international industrial transfer.
Port
In 2001, the national trans-century key project – Huanghua Port was put into trial operation. And the First Phase of Huanghua Comprehensive Port was open to navigation in 2010. At present, the 200,000 DWT channel and the 200,000 DWT ore terminal have been completed and put into operation. A group of freight trains and sea routes have been successfully launched, such as Huanghua-Xinjiang-Europe freight train, international direct shipping lines to Southeast Asia, direct sea route from the ore terminal to India, container freight train cooperating with COSCO Shipping (Tianjin) Co., LTD, and direct container route to Shanghai Port, etc. In 2021, Huanghua Port completed a throughput of 310 million tons, surpassing the 300 million tons mark for the second consecutive year, of which the container throughput amounted to 867,000 TEUs, a year-on-year increase of 19.34%, making it a convenient sea gate for Xiong'an New Area, central and southern Hebei and the deep hinterland. China-CEEC SME Cooperation Zone in Cangzhou is the only SME cooperation zone in China for cooperation with Central and Eastern European countries. The aggregation of coastal-port industries is boosting. A sizable number of the China's Top 500 enterprises as well as Fortune Global 500 companies have invested and set up enterprises in Cangzhou, such as Cargill, BAIC, CNOOC, CREC, and CFHI, etc.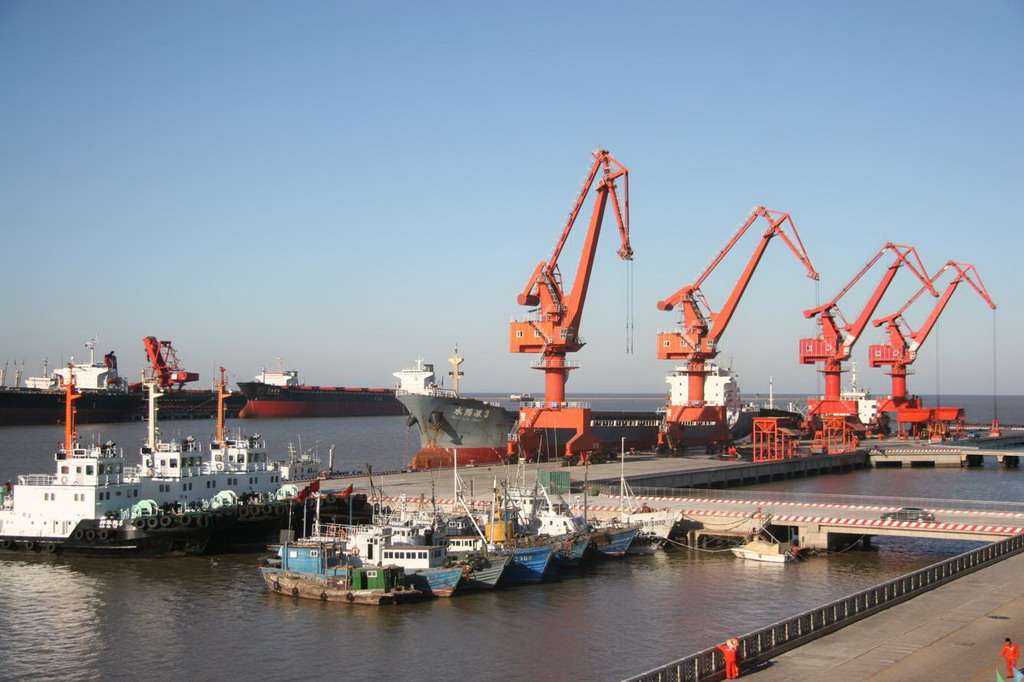 Industry
The industry of Cangzhou covers 36 of the 41 national major industry categories, and there are more than 2,000 industrial enterprises above designated size in Cangzhou, ranking in the forefront of Hebei Province. There are 18 development zones at provincial level and above, including one national development zone. A number of national production bases of featured industries have been set up, such as Hometown of Casting, Fur Capital of China, Pipeline Equipment Production Base in China, Capital of Elbow and Pipe Fittings in China,Packaging Machinery Production Base in China, etc. Cangzhou has cultivated 36 China Well-known Trademarks, such as Xiaoyangren, Guoxin and Miaolian, etc. Cangzhou has focused vigorously on cultivating, supplementing, extending, and strengthening key industrial chains, and enhanced the strength and scale of such four traditional advantageous industries as automobile manufacturing, green chemical industry, pipeline equipment, and clothing and apparel. Cangzhou will develop and expand such five strategic emerging industries as clean energy, biomedicine, advanced remanufacturing, intelligent equipment and laser industry, and accelerate the development of such modern service industries as modern logistics, cultural tourism and information application, and speed up the construction of multiple pillars that support the city's high-quality leapfrog development. Major projects such as Beijing Hyundai Cangzhou Factory and 10 million-ton oil refinery of PetroChina North China Petrochemical Company have been completed and put into operation.
Lingang Economic and Technological Development Zone, Cangzhou
Focus Industries Chemical Engineering,Biotechnology,Pharmacy,New Material,New Energy,Food,High-end Equipment Manufacturing,Logistics And Storage
Website: http://www.czcip.gov.cn
Address: Circular Economy Promotion Center, 1 Beijing Avenue, Lingang Economic and Technological Development Zone, Bohai New Area, Cangzhou, Hebei Province Postal Code: 061108 Tel.: 0317-7559881 Fax: 0317-7559880 E-mail: Lghgyq2002@163.com
Investment Promotion Bureau of Lingang Economic and Technological Promotion Department Development Zone, Cangzhou Address: Room 501, Circular Economy Promotion Center, 1 Beijing Avenue, Lingang Economic and Technological Development Zone, Bohai New Area, Cangzhou, Hebei Province Postal Code: 061108 Tel.: 0317-7559817 Fax: 0317-7559817 E-mail: Zsj5486688@126.com
Agriculture
Cangzhou takes a cultivated land area of 7,560 square kilometers, and is a major grain-producing city in Hebei Province. In 2021, the grain planting area reached 8,991.6 square kilometers, with a total output of 4.66 billion kgs. From January to August of 2022, the outputs of meat, eggs, milk, vegetables, and aquatic products reached 440,600 tons, 211,400 tons, 110,500 tons, 1.3689 million tons, and 19,800 tons respectively. At present, there are 5 provincial-level distinctive competitive industrial clusters (vegetables, pears, genuine traditional Chinese herbal medicine, high-quality live pigs, and local aquatic products), 4 provincial-level modern agricultural demonstration parks (Pears of Botou Demonstration Park, meat ducks of Xianxian Demonstration Park, greenhouse vegetables of Qingxian Demonstration Park, aquatic products of Huanghua Demonstration Park), and 5 provincial-level high-end products (Qingxian Yangjiaocui muskmelon, Huanghua winter jujube, Botou mulberry, Xiaoyangren Brand leisure dairy products of Qingxian County, Huanghua swimming crabs). Cangzhou will make efforts to accelerate the development of agricultural product processing, warehousing and cold chain logistics, urban leisure agriculture, digital smart agriculture and other aspects, and promote new breakthroughs in rural industries.
Urban and Rural Construction
Cangzhou is vigorously promoting urban renewal. Taking the opportunity of urban renewal projects worthing 133 billion yuan signed with Chinese central state-owned enterprises such as China Railway Construction Corporation, China Railway Corporation, China Energy Construction Group, Cangzhou will accelerate 72 urban renewal projects, further implement 20 key tasks for upgrading urban environment, and comprehensively improve the quality and vitality of the city.The construction of the Grand Canal Cultural Belt has been expanded from individual project to overall layout, and China Grand Canal Intangible Cultural Heritage Park has been settled in Cangzhou.The Grand Canal Ecological Restoration Exhibition Area, Lions Park, Imperial Stele Garden in Jiedi Town, and Xiejia Dam Hydraulic Wisdom Museum have been completed and open to the public. The main parts of Nanchuan Pavilion and Langyin Pavilion have been completed, and key projects such as Garden Expo Park, the Grand Canal Intangible Cultural Heritage Exhibition Center, and the upgrading and reconstruction of Dahua Industrial Site have been fully started. At the same time, a number of public facilities have been completed and put into operation, such as the urban planning hall, gymnasium, stadium, library, natatorium, museum, air film tennis hall, and skating rink, etc.
Cangzhou has the coastal line of 130kms and the large scale marine fishery and mariculture. With more than 1000 types of marine life, Cangzhou is abundant in sea food such as fish, shrimp. crab and shellfish etc. Along the coast, there are 440,000 Mu seashore and 450,000 Mu salt field area with the annual production of 2 million tons. Changlu Huanghua Salt Field is one of four largest sea salt production bases in China and sea salt is an important raw material for chlor-alkali chemical industry. Within the territory of Cangzhou, there are two oil fields, North China Oilfield and Dagang Oilfield. The proved geological reserves are 1.5 billion tons and the reserves of natural gas are 28.2 billion cubic meters, which shall provide the resources guarantee for the development of oil and chemical industry. Cangzhou is abundant in land resources and as far as the eastern coastal area as concerned, there are 2.2 million Mu unused land and 550,000 Mu construction land; therefore, it is an exceptional "gold land" to undertake the domestic and international industrial transfer.
There are 10 colleges and universities with about 60,000 undergraduates, and 34 secondary vocational schools with more than 30,000 students in Cangzhou. The rich and valuable talent reserve could satisfy the talent demands of such industries as auto manufacturing, food processing, textile and clothing, biological medicine, and electronic information, etc.
BEST PLACES TO SEE IN CANGZHOU