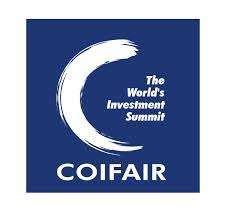 "PARTICIPATION OF BELT AND ROAD ASSOCIATES IN THE 9TH CHINA OVERSEAS INVESTMENT FAIR"
The statute of BELT AND ROAD ASSOCIATES is to create a bridge between China's investment funds and Greek businesses. As part of our strategy, BELT AND ROAD ASSOCIATES participated with its own booth at the largest exhibition organized in China for the investments of Chinese enterprises abroad, at the "9th CHINA OVERSEAS INVESTMENT FAIR (COIFAIR)", Beijing, 21-22 November 2017, at the National Convention Center.
The participation of BELT AND ROAD ASSOCIATES was the only participation from Greece.
COIFAIR is approved by the National Development and Reform Commission (NDRC) and is organized by the China Overseas Development Association. It is supported by: The World Bank, the World Trade Organization, the United Nations Development Program, the United Nations Conference on Trade and Development, the United Nations Industrial Development Organization and the Organization for Economic Co-operation and Development.
THE TIME FOR INVESTMENT OF CHINESE CAPITAL IN GREECE
We believe it is the best time to attract China's Chinese investment funds. And we believe it for a number of reasons, including the following:
1. Greece is officially the China Entrance Gateway in Europe, within the Silk Road.
2. The initiative of the People's Republic of China ONE BELT ONE ROAD, also known as "THE SILK ROAD", is an initiative that, based on the plans of the Government of China, requires an investment of $ 150 billion a year for the next five years in the countries of the Silk Road. In addition to these investments, tens of billions of dollars are invested annually from China's private sector in 65 Silk Road countries.
3. In May 2017, Greece and China signed a three-year Action Plan to promote investments between the two countries, with the obvious key objective of significantly increasing Chinese investments in Greece.
4. People of China and Greece are connected with historical roots, they are timeless friendly nations and today they are important allies. Greece, according to a statement by the Chinese Prime Minister, is the friendliest country in the European Union for China.
5. In 2017 China's foreign investment in Non-Economic Sectors was almost $ 100 billion, to 7.000 projects enterprises in 164 countries. An average of 15 million US dollars per project.